Results from the KCGCDS Special Pre-Beginner Obedience Stakes Northern Semi Finals held on 11.11.2018 in Penicuik, Edinburgh. Judge Annette Benoist.
Semi Final A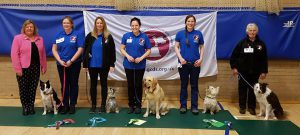 1st Sharon Bush & Mist Naughty Spots (Working Sheepdog)
2nd Fiona Matheson & Isle of Duira (Miniature Schnauzer)
3rd Janine Grinshill & Great Gifted Sunshine Lad ( Labrador)
4th Robyn Lewis & Pete's Mischevious Maisy ( West Highland White Terrier)
5th Margaret Graham & Whey Hey Millie ( Working Sheepdog)
Semi Final B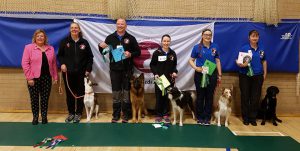 1st Yvonne Mills & Marvels Map of the Mountains ( croccbreed)
2nd Shaun McKitrick & Alberdale Isaac Schafer (GSD)
3rd Daisy Mulcahy & Helter Skelter Belter Ben (Working Sheepdog)
4th Sara Killelay & Pitter Patter Parsnip (Border Collie)
5th Abi Edwards & Bernhard the Great
(Labrador)
The above teams have all qualified for the Grand Final due to be held at Crufts 2019 on Saturday 9th March.